ACROSS THE UNIVERSE
---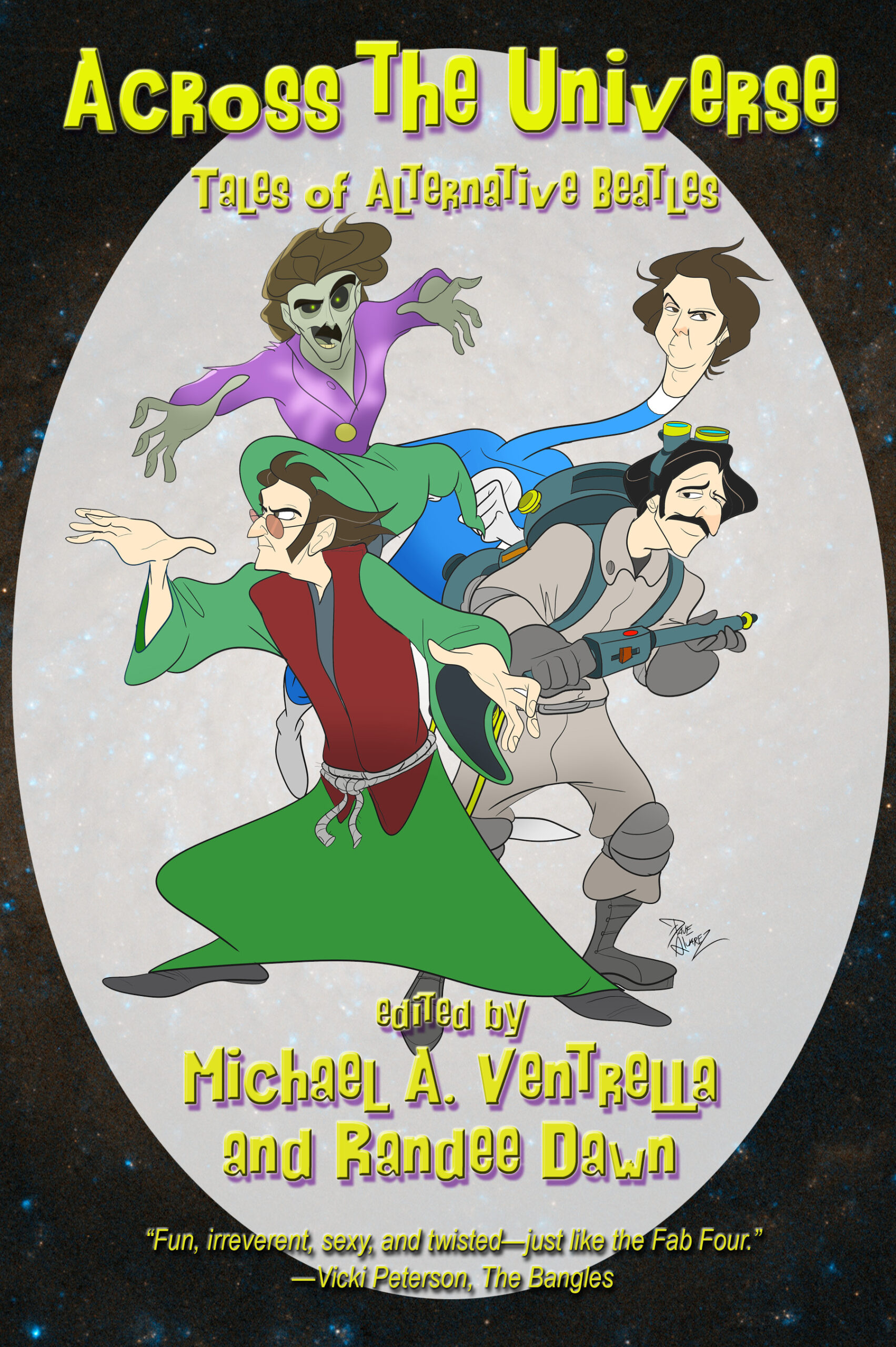 I'm not sure how many people saw the film "Yesterday," but it speculates about what happens if, along the way, the Beatles never exist. In the film, one man is "transplanted" into that reality, sliding over from our present-day knowledge of rock 'n roll history, knowing full well the Beatles were a significant band. And he becomes a wonder and a major rock star just by playing the Beatles by memory, singlehandedly.
I like the "what-if, alternate-universes" so beloved by authors such as Harry Turtledove and his minions.
Here's one by editors Ventrella and Dawn that showcase a lot of what-ifs by various contributors to this anthology about how the Fab 4, or the Fab 5 or the Fab 4.5 came about, or perhaps didn't:
"The Perfect Bridge" by Charles Barouch. A computer programmer uses a quantum temporal setup to communicate a significant suggestion to the Fab 4 band in 1967.Before it all goes terribly wrong, however, they band ends up being successful, and of course alters history.
"Paul is Dead" by Lawrence Watt-Evans. Fred Eberhart, time traveler, wants to alter his own time period in which Paul McCartney the singer dies in a car wreck right before the Beatles become famous. But Fred can alter history only so far.
"Come Together" by Allen Steele. Fab 4 artificial intelligence programs are trying to bring a scientific probe to an earth-like planet near Alpha Centauri. But the programming is too true to the realities of the personal dynamics of a band that could play together only so long before its sad, inevitable breakup.
"The Truth Within" by Sally Wiener Grotta. President Richard M. Nixon calls on Beatle George Harrison for a special meeting. On the President's yacht off the Florida coast, Nixon wants to hear George's thoughts on what the President should do during an increasingly intense wartime. George just wants the President to learn the beauty and soul-changing benefits of transcendental meditation. What effect will George's transcendental meditation teaching have on Tricky Dick?
"Game Seven" by Bev Vincent. This tale re-imagines the Beatles as hockey players in the biggest game of their lives.
"Meet the Beatles" by Pat Cadigan. Two 13-year-old girls travel back in time to a place where the Beatles almost were riot victims at a concert in Cleveland, and end up literally becoming part of the Fab 4.
"My Sweet Lord of Light" by Barbara Clough. George Harrison meets a demon out of a Roger Zelazny novel.
"Liverpool Band Battle 1982" by Eric Avedissian. The Beatles as we (sort of) know them, in this alternate universe, are a little behind their legacy, feeling a bit down and out, and don't come into fashion until punk rock arrives in the 1980s.
Great Britain is spared from the worldwide catastrophe in "Apocalypse Rock" by Matthew Amati. What remains in the U.S. are survival bands in a barely-alive state of civilization. But the British invasion band the Beetles – with two "Es" – comes prepared to entertain, because they only accept payment in gold.
"Doing Lennon" by Gregory Benford. Henry Fielding knows and loves the songs by John Lennon. So he becomes a Lennon impersonator when, long after Fielding's death, he is revived by a company called Immortality Incorporated and stages songs for masses that have forgotten Lennon's impact. Until, of course, the company successfully revives the real Paul McCartney, and the ruse comes to a predictable end. But yet the Fielding/Lennon simulation lives on, for bigger purposes.
My favorite story is "Through a Glass Onion" by Christian Smith. In this timeline, radically different from what we know about any band called the Beatles, John Lennon discovers a possible future in scenes presented by a device that a so-called visitor from the future calls an "onion." The device offers glimpses of commercial and artistic success from his band that broke up after forgetful performances in Hamburg, Germany. (How the onion device works, unfortunately, is never explained.) The onion houses scenes of a "present" that could have been. However, in this alternate present, the band members are scattered about, long forgotten. The visitor convinces John to re-unite members of the band to inevitably alter human history.