ALL OUR WRONG TODAYS
---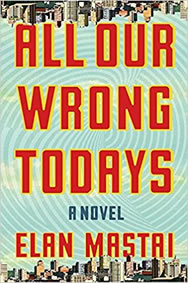 In 2016, Tom Barren, lab technician and son of genius inventor Dr. Victor Barren, lives in a world that is one gigalopolis of technological advances, brought forth as the result of free and unceasing natural energy produced by the genius inventor Lionel Goettreider. Goettreider is the inventor of the world-renowned and transforming (not to mention essential for all the life as Tom knows it) Goettreider Engine, which was invented on July 11, 1965.
That date becomes absolutely critical to this novel.
But in an attempt to thwart the suicide of his one love, Penelope, Tom uses his dad's time-travel invention, Butterfly-effect-like, to go back in time, to a much earlier period. Unfortunately Tom disrupts the critical time of the invention, essentially stopping the device from being invented, and turns his own reality upside down.
Gone is Tom's world as he knew it. But in its place is this reality, we all share, in 2016. The goodness of Tom's reality is replaced by the grunge reality of iPhones and high-def television and no certain cure for cancer. Not to mention Netflix. But everything else is skewed, including the lives (and deaths) of billions of people, including his very own family.
At the same time, adrift in the alternate reality of an engineless world, Tom must fight the alternate-reality of himself, in this case, John Barren, a ruthless and insensitive architect who places the images of Tom's own reality, from his consciousness, into the designs of buildings in present-day 2016. Of course they are a hit. And John is wildly successful at stealing Tom's images of the reality that should have been.
How can Tom set everything straight and ensure the successful invention of the Goettreider Engine? Can he? Should he? It's an intriguing and captivating tale of what one man can do. Or perhaps of what one man SHOULDN'T do.