ANTHEMS OUTSIDE TIME and Other Strange Voices
---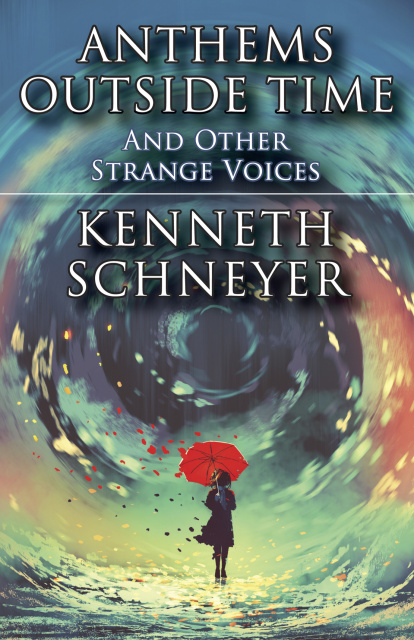 I was reluctant to read this, because I glanced at the cover that seemed a bit gaudy and read who the writer was, someone I didn't recognize. I put that aside and gave Schneyer the benefit of the doubt and I am so glad I did.
ANTHEMS is a fairly mesmerizing story collection that could use a better cover.
Here are some of my more-favored stories:
"Hear the Enemy, My Daughter." In times of war, the enemy -- no matter how alien -- is a lot like us. Humans, or any race for that matter, yearn to protect their children from harm, even on colonized worlds.
In another tale, a near-immortal human, kept alive by cybernetic technology, questions his life and the decisions he made -- as well as those he didn't make -- in "Some Pebbles in the Palm." A lot of us are motivated by change that can be good, yet we ourselves are so reluctant to change.
"The Last Bombardment." What if biological weapons, in the form of human babies, were used in a future war? What would that do to the "opposition's" psyche?
"Confinement." This is the story of a modern-day Annunciation, complete with a Madonna-like figure and a child infirmary.
"Keeping Tabs." What if you could live in consort with another person, or actually BE that person, with the aid of technology?
"Tenure Track." Dr. Martin Fournier, professor of literature and a connoisseur of author Jane Austin, details the years of his life using extended-life process technology, adding years and decades to his existence. Life goes on in some extraordinarily surprising ways, and in others, weariness takes over. Fournier still must confront issues of ageism and rejection.
"Dispersion." Lisa's mother, Shirley, is getting old. And as her mother ages, Lisa can hear voices emanating from, of all things, flies, butterflies and even preying mantises. The sounds are the result of her mother's life as it slowly winds down, similar to the mother of the story's author, who suffered through 12 years of multi-infarct dementia.