CARSON WENTZ
---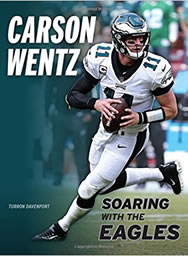 Going down as the result of a season-ending knee injury late in the 2017 professional football season, Eagle fans remain in awe about what we believe is the true most valuable player in the sport: Carson Wentz.
North Dakota's native son shined early and often in his beginning as franchise quarterback with the Eagles, bringing us his talents from high school through college. Along with that comes a leader with strong character and solid morals and a work ethic to make any parent proud.
But for now, forget North Dakota's son; he is South Street's favorite child now, and the team has proven itself vastly improved with Wentz at the helm.
There are a lot of photos, many from the 2017 season games and other events. This is a MUST for the consummate Eagle's collector.