CUTTING EDGE
---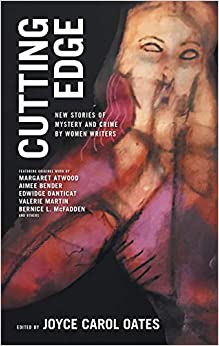 CUTTING EDGE is an anthology of mystery and crime stories by women writers.
I think these stories stand out:
"One of These Nights" by Livia Llewellyn. Schoolgirls share a terrifying secret about the behavior of one adult predator, yet can commit an atrocious murder just like any good felon.
"A History of the World in Five Objects" by S.J. Rozan. A young woman tries to come to grips with the memory of a traumatic death witnessed early in her life. There are some experiences you can never recover from.
"The Hunger" by Lisa Lim. In this graphic tale, a woman's seething anger rises to the surface of her life. Her fury is unleashed on at least one angry relative.
"Too Many Lunatics" by Lucy Taylor. Is one wayward sister, whose mission it is to protect another, too much? This tale leaves it up to the reader's imagination and narrative power to determine what might be true and real, and what parts of the tale involve some kind of psychosis.
"OBF, Inc." by Bernice L. McFadden. An unemployed man, Andrew Jamison, responds to a help-wanted ad email through his LinkedIn account for a position with a company called "OBF, Inc." Jamison attends a strange interview appointment from an even more bizarre and mysterious company than he imagined, which creates even more worry and confusion over a line of questions, that he simply gets up and runs away. In the awareness/take action era of Black Lives Matter, Jamison, unfortunately, won't be able to escape the hold that OBF, Inc. has on him.
"Impala" by S.A. Solomon. Renee's car tire goes flat off of Interstate 95 near Jacksonville, Fla. Renee's "training" through a relationship she had with a man kicks in. Yet this time Renee experiences another dominating, alpha male out to "help" her. If Renee plays by the rules, made of course by power- and control-wielding male acquaintances, she may be able to survive. But Renee won't play by any cruel "rules."
"Il Grifone" by Valerie Martin. An author of murder mysteries and her husband live in an apartment in Italy. They are keenly aware of a nearby resident, a miserly, dark and mysterious old man seemingly without a name. Or that is what they know about him. What the author puts to paper about whom she refers to as "this monster," the griffin, only ends up sealing his fate.
"Miss Martin" by Sheila Kohler. Sexual abuse of a young girl -- and the cavalier, avoiding-reality attitude of a woman sickly bound to the predator himself, the girl's father -- makes this tale haunting and disturbing.
"Assassin" by Joyce Carol Oates. This is a story about hatred and bloodlust that is, at times, searingly comical. A devil-may-care attitude toward the murder, a gruesome beheading, gives this story points for the gross-out.