DRINKS: A User's Guide
---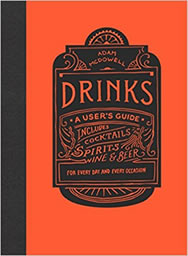 Expert drink columnist Adam McDowell calls this a user's guide, but it is more of a way of saying "it's all good" when it comes to the drinks you love.
McDowell does not take sides in DRINKS about the best wines to buy, the better beers and champagnes, or the best before- or after-dinner drinks. He merely provides options for how to enjoy them.
Of course, there is a lot of mixing terminology and tools here; that would be expected from a how-to guide. There are proper and improper ways to make a Manhattan, for instance. But he ends up destroying your myths about what kind of vodkas are good and what aren't.
Same goes for wines and other spirits.
McDowell's philosophy, throughout the book: Enjoy the drinks that provide joy to your life. There is no preferred or accepted selection along the way.