GOOD MORNING THUN, GOOD MORNING JANSSEN: The Extraordinary Days of the Partners
---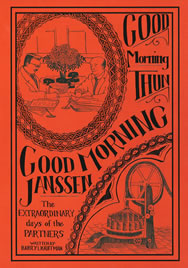 by Barry L. Kauffman
Wyomissing Public Library
(www.wyopublib.org)
2018, 156 pages, no price listed
ISBN 978-0-692-07914-0
Click here to purchase
Such a long time ago, in a place very near to my home, there existed a textile industry.
You know, clothing manufacturing.
But competition, higher wages, bigger shareholder investment returns and an entirely corporate-run America got in the way.
The Wyomissing Industries, Berkshire Knitting Mills and the Textile Machine Works: they were all company components that went in the direction of creating a whole community, near Reading, Pa., literally from scratch, in a lovely place west of Reading, Pa., called Wyomissing.
GOOD MORNING THUN is the story of two men who became lifelong business partners in the textile (in this case, mostly ladies stocking braiding industry). Heinrich (Henry) Janssen and Ferdinand Thun were born in 1866 in Barmen, Germany, near the Wupper River, a tributary of the Rhine. Near the turn of the last century, both men emigrated to the West, bringing to the Americas the vocational and engineering know-how with them.
They began a company that, at one time at the turn of the 20th century and well into the Great Depression, employed thousands in Berks County, Pa.
But times change.
Things come and they go.
But along the way, oh, what incredible transformation takes place!
Despite some glaring typos in this version of the book, Kauffman does a spirited job of conveying the greatness of the lifelong partnership of these two men to literally create many good communities. Dear President Trump, if America lost its greatness, it is when America itself got taken over by greed and cold corporate shareholder interests and abandoned the backbone of the industries, the common worker.
Trump believers should read this book. Even the Trump detractors can learn a thing or two if they pick it up.