IMAGES OF AMERICA: HERSHEY
---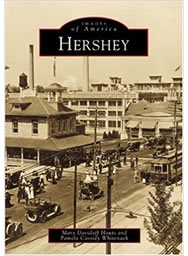 by Mary Davidoff Houts and Pamela Cassidy Whitenack
Arcadia Publishing/Tempus Publishing
(www.arcadiapublishing.com)
2000, 128 pp., $18.99
ISBN 0-7385-0436-X
Click here to purchase
IMAGES is a refreshing look back at the yesteryear in my adopted hometown of Hershey, Pa. It's a return to the long-lost good old days when philanthropist/businessman Milton Snavely Hershey transformed a little-known village called Hockersville into a growing town named after himself, of course.
Hershey was a businessman who was almost Trump-idyllic in intensity (or the way Trump constantly sells himself): creating jobs, building a community, improving everyone's standard of living. In short, all the things that made America great.
In photos and descriptions of the time, we learn what became of the chocolate magnate after his other business failures, including an ice cream stand in Philadelphia and successes, including a caramel company in Lancaster, Pa. Milton learned a lot in Lancaster, Pa. (the beloved seat of my favorite county), including how to make good chocolate, how to create a winning model of supply and demand and marketing and how to keep buyers and consumers happy.
There is little today that resembles Milton's Hershey. Photos of Chocolate Avenue in downtown Hershey are sort of quaint, almost surreal (a lot has been torn down over the years). But the foundation and school exists. Thank goodness. Or thank Hershey.