NEBULA AWARDS SHOWCASE 2018
---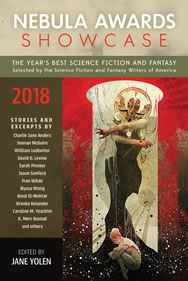 ed. By Jane Yolen
Pyr/Prometheus
(www.pyrsf.com)
2018, 275 pages, $18
ISBN 978-1-63388-504-2
Click here to purchase
As expected, NEBULA AWARDS SHOWCASE is a must-read every year. We never missed reviewing the collection in True Review.
However, this time I sense a lack of definition. Some of the stories did not strike me as emotionally solid enough or captivating enough. Maybe it was me; I have come to expect a lot more in the way of nonfictional observations, speeches, etc. in the past several volumes. I had gotten used to that.
Meanwhile, here are the top stories from the collection of award winners and runners-up:
Nominee, best short story: "A Fist of Permutations in Lightning and Wildflowers" by Alyssa Wong: Two sisters, Hannah and Melanie, have the gift to alter reality. But like any talent, it can be fleeting, inconstant and often completely unreliable.
Nominee, best short story: "Sabbath Wine" by Barbara Krasnoff: Two ordinary but completely different men understand the importance of family in their lives when their children cause them to meet, when one of the fathers needs wine for a Sabbath dinner.
Nominee, best short story: "Welcome to the Medical Clinic at the Interplanetary Relay Station | Hours Since the Last Patient Death: 0" by Caroline M. Youchim: This is a resounding and a deeply dark satire about the "hell" in "health care," even if it occurs on a relay station between Saturn and Uranus.
But what makes the collection entirely worth buying the Nebula Award-winning novelette, "The Long Fall Up" by William Ledbetter: The lure of space travel is great, but the dangers to human life, especially in zero gravity, are too evident to risk birthing in space. So having children in space is not permitted, at least by corporate mandate. The Jinshan Corporation forbids pregnancy, and when one happens, it will exact a terrible toll for the individual who violates the mandate.
The corporation orders employee Jager Jin to chase the new mom, Veronica Perez, through space to murder her and her newborn baby and to destroy the ship in the process. But Jager finds himself lied to and duped, forcing him to develop other plans. But in pursuit, the corporation remains steadfast and dreadfully relentless in its terrible plan.