OTHER ARMS REACH OUT TO ME: Georgia Stories
---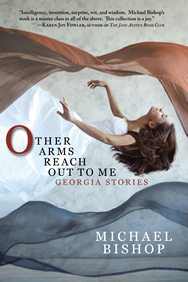 OTHER ARMS is great collection from a Georgian writer of fiction of the deep south.
Bishop's best stories in this author collection are:
"Unfit for Eden": Dwight David Colter, like any young man growing up in the dogma of a religious South, is confused. Colter can't accept much of anything about his faith as a member of the Jehovah's Witnesses. He would rather read Walt Witman than The Book. Colter would rather try to find his happiness on earth, now, then die and hope for a paradise after death.
Colter's saving grace is when he befriends a teacher, and soon after finds out a lot of about his life in the Okefinokee that he didn't know.
"No Picnic": Learning about the history of deadly racism from the account of a retirement community resident, a worker called Shadrach must come into an account of the harsh realities of the past and learn how the present is not so far removed.
A vignette, a slice of life in southern Spain in the 1960s, comprises "Adalusian Triptych, 1962."
"Crazy About Each Other": Gordon Sweat is entered into the institution called Quiet Harbor Psychiatric Center, where he meets Karen Cleveland, a woman who has a condition in which she is compelled to pull her hair out. Their situation proves an unlikely setting for two people to fall in love. But crazier things can happen.
In the title story, Bishop has created one of the most memorable characters of all, Mr. F. Simms Ledgister, an old codger if there ever was, steeped in arrogant and untoward self-pity, who is a resident of the Bright Bower Hospice in west-central Georgia. The hospice hires a violinist, Mrs. Moody, and at once Mr. Ledgister wants her to play. He's not happy with the classics, she knows; rather, he is enamored with her rendition of Ray Charles's bluesy "Georgia On My Mind," with its lyrical "other arms reach out to me."
What the old and wealthy codger wants is not necessarily the music, but instead favors the "closeness" it brings. He and the violinist don't' get along at all, but the mystery of exactly why a healthy-looking, miserable old man is in hospice is something Mrs. Moody will soon find out.
"Doggedly Wooing Madonna": One very obsessive, fatal-attraction-like fan's quest to marry his music idol has a very wacky, unpredictable conclusion.