PRESENT AT THE CREATION: My Life in the NFL and the Rise of America's Game
---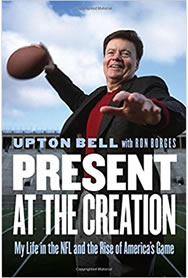 Upton Bell, son of Philadelphia Eagles founder Bert Bell, the game's greatest innovator who saved the NFL from ruin after World War II, reminded me once again that, when you think you know just about everything that's important, you miss quite a few critical things.
As in, where did the name "Philadelphia Eagles" come from?
No, it wasn't named in honor of the Boston College Eagles. No, Bell didn't see a bald eagle making its way to a nest on Hawk Mountain. Actually, the expansion-team Eagles were first simply the Frankford Yellow Jackets. In July 1933, Bell had naming rights to the "Philadelphia team" he purchased.
So one day, July 9, 1933, walking down Chestnut Street in center city, Philadelphia, he came to the corner of Chestnut and Broad streets and "saw a billboard promoting President Franklin Roosevelt's National Recovery Act," according to the book. "The symbol looking down at him with a hungry eye was a bald eagle. At that moment, the Philadelphia Eagles were born."
Upton served in various roles, in the beginning as an NFL scout, then as personnel director for the Baltimore Colts, general manager of the New England Patriots, World Football League owner of the Charlotte Hornets and then radio and TV talk show host.
Throughout the book, there are so many memories, anecdotes, recollections and asides that you wonder if he had a big, thick journal with names and thoughts and belief systems that he wrote down his entire time in football. I don't know how he remembers it all, but it's here: the personalities that shaped the league that literally is America's No. 1 sport.