RAMBUNCTIOUS: Nine Tales of Determination
---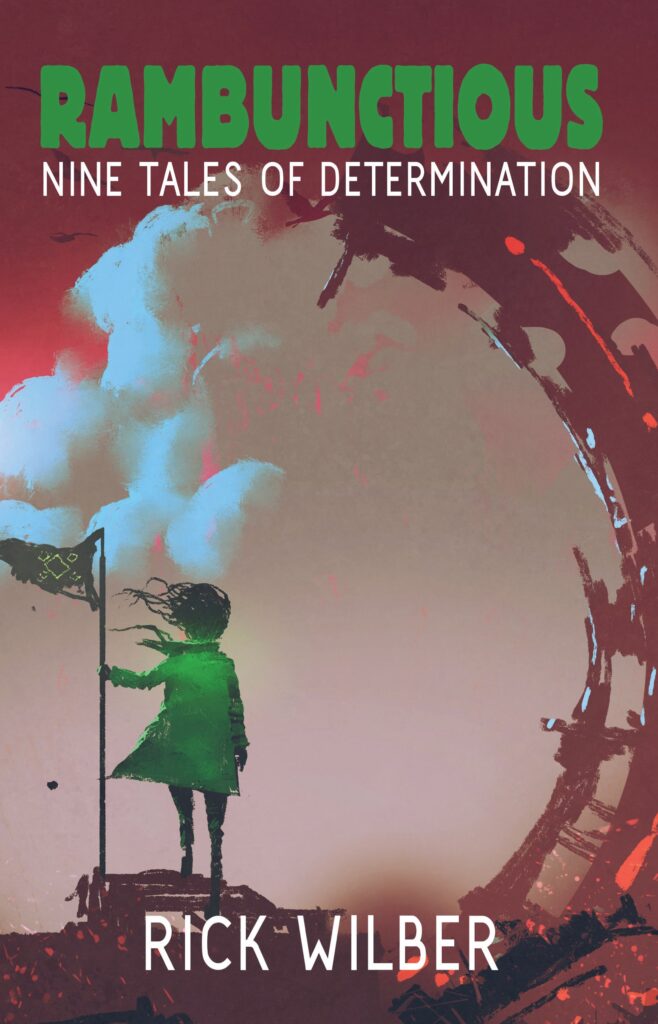 RAMBUNCTIOUS is an excellent collection of stories.
I enjoyed these:
"Today is Today." A man assesses alternate realities in his life, where his daughter is not a soccer star with Down syndrome, but somebody quite ordinary. In the meantime, he learns a lot about his love for his talented, dynamic daughter, and knowing she is unique, she is special, despite what others perceive as her crushing handicap. As a father to a bright girl, he learns to see something else entirely.
"Rambunctious," the title story, is one about a very defiant little girl, Emma, who adores her Grandma Edna and Grandpa Posey. Her grandparents tell her stories about how old they are, and where they are from. Emma can find herself involved in a playground fistfight against boys and win — that's easy. But trying to figure out if her own grandparents are actually space aliens proves even more challenging. Emma learns from them, of course, that she has a legacy to continue and maintain as time moves on.
"Ice Covers the Hole." In a cold, distant town in Minnesota, Melissa — Mellie, to her father — is about to leave on a plane. But her ice-fishing father needs to see her before she leaves, recalling a past of horrible memories, of a way to place closure on a violent family reality.
"Walking to Boston." Harry Mack, a veteran of the Army-Air Corps of World War II, drives in his new 1984 Buick Riviera to pick up the love of his life, Niamh, whom he refers to as "Irish." He met Niamh when he was in a B-25 bomber crash-landing in her home in Ireland. It was a rescue that could only be described as "supernatural," and Harry was lucky to survive. But Niamh wants to be with her sisters. She is, however, suffering from dementia, and Harry soon realizes she has no "sisters." But Niamh needs to go to Massachusetts to see them. So Harry picks her up at the nursing home and off across the country, in the luxury car they go, to a meeting with the inevitable.
"Something Real." Moe Berg, a professional baseball player versed in many languages with a slew of college degrees, is in a slump as World War II rages on. Until one day, after a game is lost, he is visited by a representative of a wealthy man who has a better plan for Dr. Berg, a mission to make a real difference in the war against Germany. It will involve him in the development of the atomic bomb in a so-called neutral country, a zeppelin and a woman with an unknown name who seems to travel and appear with Berg at will (and who seems to know his destiny), in this alternate universe in which his own actions WILL matter.
"Hope as an Element of Cold, Dark Matter." Annie Lindsay is a star high school basketball player who is best friends with Hope, a sunny and bright classmate who one day commits suicide. But when Annie plays basketball, and nearly everywhere she travels, Hope (or her ghost) appears to Annie. Annie's father, Duncan, is a cosmologist studying dark matter. What does dark matter, the ghost of a dead friend and Down syndrome have in common in this haunting tale?
"Prices." Everyone has their time in the sun, at least for a little while. But people's behaviors when they are young can haunt them when they get older. That's the premise of this story, about the son of a once-fortunate major-league baseball player, a pitcher, who repeatedly receives calls on his phone, despite getting a new cellphone number, from what can only be described as a ghost of his father. The story is about reminiscence, about holding onto memory, about getting old and about how memories, as we age, are sometimes all we have.