REMOTE CONTROL
---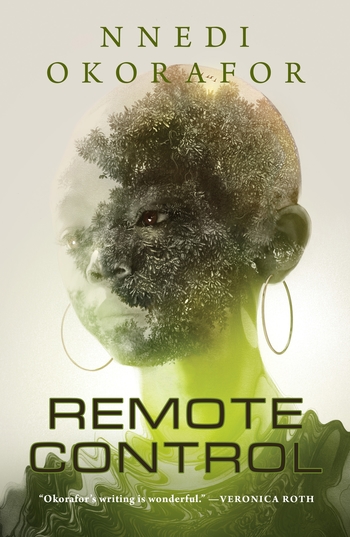 by Nnedi Okorafor
Tor Books
(www.tor.com)
2021, 159 pages, $19.99
ISBN 978-1-250-77280-0
Click here to purchase
Fatima is an ordinary girl growing up in Ghana, adoring her grandfather, who likes to gaze at the stars, and discovers an elaborate box containing a small seed. She'd never seen anything like the gold jewelry-type box before, with the seed actually glowing bright green. She wants to keep the box, but her father sells it to a politician.
Disaster strikes when an olive-green BMW runs into her, "killing" Fatima — at least until the green glow of the seed saves her life, but destroys others in its path.
But Fatima needs to recover the seed, to get answers to its mysterious powers, pursuing the seed around northern rural Ghana. Fatima, who now calls herself Sankofa, is known as the "adopted child of the Angel of Death." Along the way, Sankofa saves a shop from armed robbers and ventures into RoboTown, where even the resident Robocop scrutinizes her, watching her every step, trying to figure out who or what she is. Sankofa has yet to find out how to contain the green-light power, what it means and what she does when she inevitably finds the box and the seed.
This is a strangely compelling short novel that surprises and delights.