SIX GUNS STRAIGHT FROM HELL No. 3
---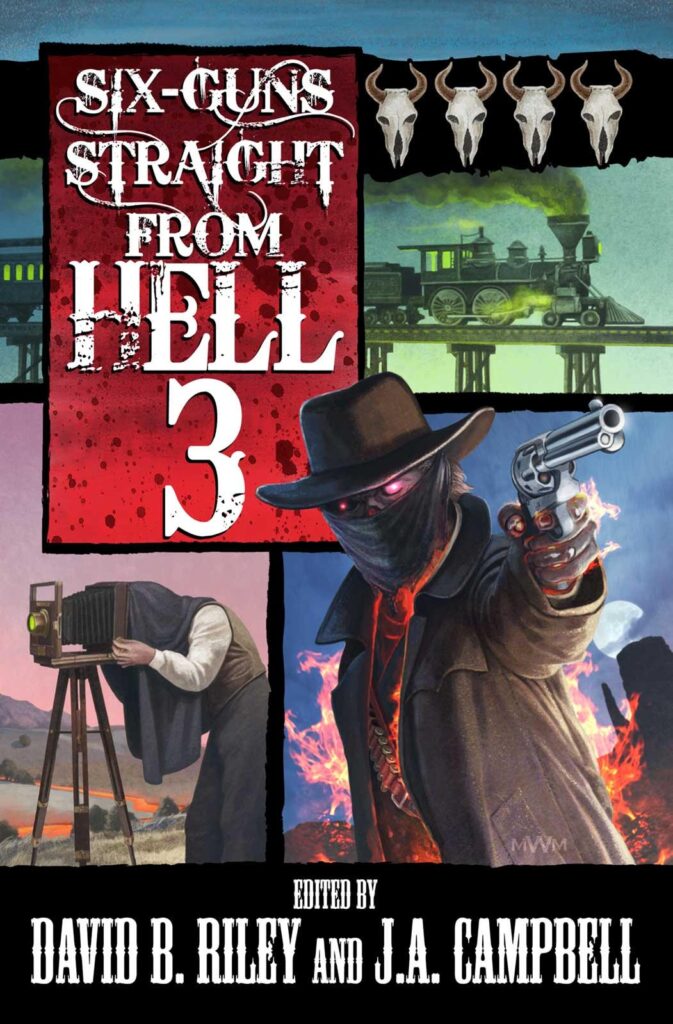 This is No. 3 in the anthologies of a weird West.
I loved these stories:
"My Nameless Beast." A psycho-outlaw commits one murder too many, in this case a robbery, when he steals a black horse with no name. It happens to be a dark horse that is the very essence of terror and can easily drop its rider into and out of major trouble.
"A Taste of Purgatory." A defrocked preacher gets more than a glimpse of hell and damnation in an outhouse.
"Tinhorn Tintype." A very good photographer captures the images of those "victims" of the gunfight at the OK Corral. At least there is something mighty demonic about one photograph, anyway.
"Grober." A hunter stalks his prey, but in this case, the prey is an almost supernatural carnivore, a menace to man and beast.
"God's Own Land." In the West, Scout discovers nasty creatures called sand lions, brought on, he thinks, by Indians that attack people. Bullets can't stop the creatures. Scout wonders what will.
"The Metal Skins." Motha, of the Wiihpukapaya tribe, knows the "blue eyes" (white men) are expanding their population into tribe territory, killing at random, breaking their empty promises of nonviolence. Until one day Motha realizes it's not the blue eyes at all, but some strange machine men, metal bodies that deflect bullets. What are they?
Motha tries to explain the machine men to Aloysias Johns, a translator/negotiator, about what is happening, enlisting the help of his sworn enemy to fight an even more terrifying threat to his tribe.
"The Surest Shot." A wounded man on the run deals with the devil, and the poor dude actually trusts the demon.
"Foolproof Plan." A Texas Ranger is sent to quell a demonic cult that has been wiping out entire families between El Paso and Austin. The man has a worthy plan.
"Manifest Destiny." Madeline Montague and husband Connie watch almost helplessly as their wagon train, on a trip to Oregon, have to deal with the devastation wrought by a werewolf-like creature that attacks and kills, with bullets having very little effect. What is that saying about "staring into darkness" too long?
"Dead Hand Shooting." Roland Wako comes back from a dead sleep, literally, to seek vengeance on his murderers.
"In Return" Two Army privates save a traveling snake-oil salesman from an Indian ambush. In return, a gift from the salesman proves almost deadly, as one soldier soon realizes he will outlive the other — or will he? — because his own destiny in a historic battle is going to happen real soon.
"Jacob Lowe's Return." An outlaw rises from the dead to bring his recently hanged partner back from the dead to seek vengeance on the townsfolk who killed them.