TEMPORARY
---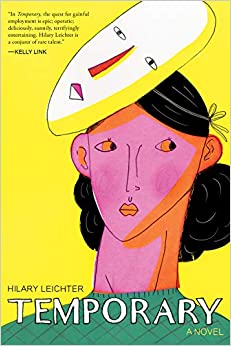 TEMPORARY is a formidable pastiche on the incalculable frustrations and oh-so-minor triumphs of one temporary employee, adjusting to life in the office, even when the "office" is a pirate ship, and she's a pirate; when she is a barnacle; or is a bank robber, accepting her role and living with an assassin; as a passenger in a blimp, sailing along with other fugitive temps; a promoter, distributing pamphlets for the Director of Pamphlets; or as a leader of a group of Temps.
This employee of Major Corp. will learn the full spectrum of life, love, work and unemployment. All the while she will dream of the Shangri-La state of Permanence, while anything permanent for her and her ability to make a living remain ever-elusive.
It will be fun to watch this author develop over time, and I certainly long to read more from Leichter.