THE BEST OF R.A. LAFFERTY
---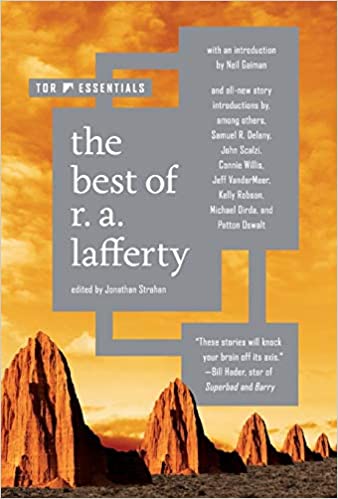 by R.A. Lafferty
ed. by Jonathan Strahan
Tor Essentials (www.tor-forge.com)
2021, 285 pages, $18.99.
ISBN 978-1-250-77853-6
Click here to purchase
Sometimes when I read R.A. Lafferty's stories, I am reminded by the song by the Dixie Mountain Daredevils singing "Come On, Eileen," about how "young and clever" they are.
So I know it is a simple "impression that I get" (with a nod to the song by The Mighty Bostones) when I read a "Lafferty." "Reading a Lafferty" is a venue unto itself, wrought with spectacular Big Tale backdrops, acclimating you with some of the most ridiculous plotting and settings, drawing you every which way but loose.
These are all-American tall tales, such as the money being made and spent for the briefest of times and memories people have of them in "Slow Tuesday Night." Or about the strange warping of perception and reality, this one set on lands granted to an American Native in Oklahoma, all 160 acres of genuine weirdness, in "Narrow Valley."
It's amazing how easily Lafferty can slam-dunk his verbal observations through the most quirky and crafty characters (like a song by John Lennon, a tale that sounds so simple but is incredibly difficult to write and perform), the tale, "Nor Limestone Islands," about a marble/limestone salesman from the nearby country called "Stutzamutza" — wherever that is — and about a precocious woman, Phosphor McCabe, who wants to build a pagoda on a 30-acre hill, inherited from her grandfather. And McCabe knows quite a bit about the origins of Stutzamutzan limestone, and McCabe does a presentation on it.
"Interurban Queen." What happens in an alternate timeline when trolleys — actually, believe it or not, an entire trolley empire — evolve, instead of the automobile?
"Thus We Frustrate Charlemagne." Attempts to alter the past, no matter how tempered the attempt, rarely go as planned.
"In Our Block." You always knew there were very odd people living on your block. But these neighbors have characteristics that can only be described as dangerously unpredictable and supernatural.
My favorite story, "Nine Hundred Grandmothers," features the oddball character called Ceron Swicegood, who is attempting to find out from the immortal and very old chain of odd beings, the Proavitoi, the origin of their existence and perhaps of all our existence. But he becomes flustered and frustrated not only by the questions of Proavitoi brethren grandmothers, but by his pirate colleagues who simply want to cannibalize the grandmothers for their chemical secrets to immortality.
"Eurema's Dam." Albert was definitely a slow child, and many called him a real dolt. But we know that mental challenges can be the mother of invention, so Albert used his eccentric mind to reshape the world, with his own inventions: robots and artificial intelligence, of which Albert hopes can get humanity on the right path. Or at least keep a savant like himself out of trouble.
"Selenium Ghosts of the Eighteen Seventies." In this steampunk story, a more strange film industry, with even stranger special effects, sees its birth long ago, and retains its own legacy of stars and controversies.
"Continued on Next Rock." A mad bunch of archeologists continue to uncover the unimaginable, and come to bizarre yet pragmatic conclusions over what they find.
"Seven-Day Terror." Clarissa has invented a way to make things disappear. But she must keep this knowledge out of the hands of the irresponsible and evil.