THE COLLECTED NIGHTMARES
---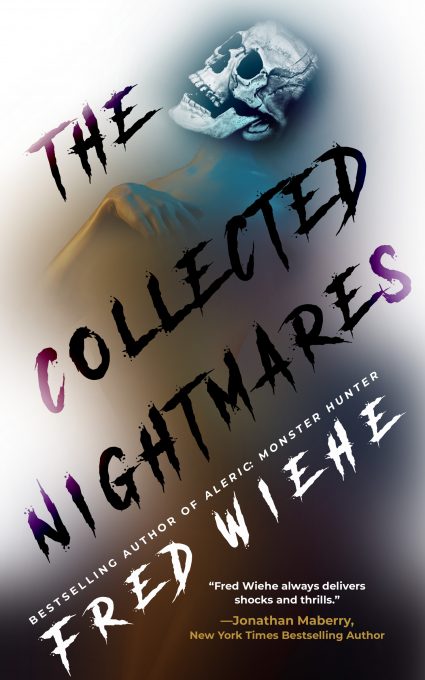 So it was with a little trepidation that I came to review this collection. I am not familiar with Wiehe's repertoire; I had not heard of this publisher, either; but an email came to me one time to review THE COLLECTED NIGHTMARES, and I thought, well why not?
I'm glad I read it. There is an emphasis on chasing monsters, fighting demons, and the stories carry this theme in a few gems:
"Pretender." It's Halloween, and horror writer Frank Lester is invited to the local Barnes & Noble bookstore to sign some of his works. He meets a stranger who asks Frank if he believes in and possibly has battled monsters. Frank wonders: who is this guy? Why does he have a voice strangely like his own father? Why does an obvious prankster sound so much like his own dad? Abused by his father, Frank cannot seem to shake off, or escape, his father's vengeful spirit.
"Under the Protection of Witches" Based on a feature-length script called "The Uglies," this tale describes Solumn, Indiana, a bucolic, placid town unfettered by any demons. At least until Gram dies. Then, like everybody else in Solumn, many bat-like scavenging demons arrive back from their prison, formerly safely sealed in a tree, to search and destroy humans. Ellie Evans knows about Gram, who townsfolk recognize as a witch. But was she the only person protecting the town from the devastation wrought long ago by the uglies, who now appear again?
"The In Between, Part 2." This tale mixes a little bit of the film, "Ghost," with any of the numerous ghost-hunter TV shows of the past decade. In this tale, Cody Butler finds himself witnessing his own funeral and wake, unaware of how or why he died so early, but watches as his friends try to expose him and communicate to him. A battle must therefore be fought against a murderous demon, a battle Cody knows he must win.
"The Alchemists." This tale serves as a primer for Wiehe's novel-in-progress, THE ALCHEMISTS: DARK VS. LIGHT.
"Creeper." Detective Nick Street follows a deranged killer whom he later realizes is held captive by some type of liquid creature that can inhabit the bodies of others to do its killing. This reminds me of a film, "Fallen," from 1998 featuring Denzel Washington.
This collection includes a novella, "Resurrected: Aleric: Monster Hunter."