THE FIFTH HEART
---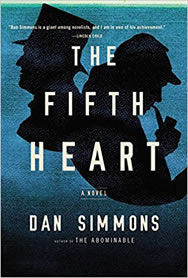 Readers of THE FIFTH HEART will either view the novel as a clever historical masterpiece or a convoluted concoction, a mashup of 19th century detective fiction and a times-gone-by conspiracy thriller.
Either way, it gives us Simmons at some of his best work on why terrorism is a lot older than 9-11.
In this case, Simmons presents us with Sherlock Holmes -- yes, the very one who, with Dr. Watson, resides at 221 B Baker St., London, and Arthur Conan Doyle is Dr. Watson's literary agent. Seems that Holmes is being employed, secretly, to investigate the murder of Mrs. Clover Adams, most likely caused by someone impersonating Rebecca Lorne, her friend -- an impersonator who may have a son for an assassin. Also, Holmes is tasked to find out why members of the inner circle, the Five of Hearts, are warned annually about finding her killers, when the death certificate clearly indicates a suicide. However, Holmes believes she was murdered by Lucan Adler, a known anarchist and assassin.
Who is Adler? And what could his role be in the plan to assassinate President Grover Cleveland at the upcoming Columbia Exposition, or World's Fair, in Chicago?
Holmes' real mission is to thwart the anarchists. But why is there a connection with Clover Adams?
And why has a fictional detective become real? Is Holmes someone who is impersonating the great detective of pulp-magazine lore? Or is Holmes the real thing?
And will the detective be able to stop his arch-enemy James Moriarity from leading and executing a catastrophic plot to destroy Western leadership?