THE GLASS MAGICIAN
---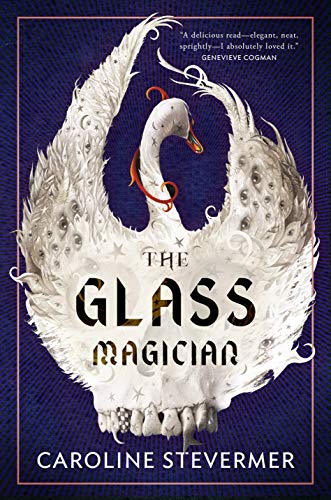 Caroline Stevermer obviously has fallen in love with the Gilded Age, the turn of the previous century, during an age of exponential technological growth.
Set amidst New York, circa 1905, THE GLASS MAGICIAN follows the life of the protagonist, Thalia Cutler, a mediocre stage magician who can normally release herself from cuffs on her wrist before a sword falls fatally on her head. Except in this case the stunt goes deadly wrong, and Thalia's life is in harm's way. When all else fails, she can transform herself into a swan and escape.
In Cutler's world, there are sub-species of humans. From THE GLASS MAGICIAN:
"The Sylvestri moved the mountains, they cared for the forests, and they kept the water clean. After a while, the Solitaires came, and the Sylvestri felt sorry for them, so they shared some of the world with them. Last of all came the Traders, and they bought things and sold things until they ran the parts of the world the Sylvestri had shared with the Solitaires."
The arch-enemy of the Traders are the Manticores, who can eat the gift of the Traders. The Manticores must be stopped, however, by the time Traders can detect them and before an attack. If they attack, it could be too late.
The story revolves around an act in which Thalia can "capture" a deadly bullet fired from a gun. Apparently, however, some stage acts are trademarked, and those who "steal" these acts can be prosecuted under the law. When Thalia and a colleague drop in to witness an act, in the audience, secretly, the act backfires and the stunt actor is killed. Who rigged the stunt to fail? Can Thalia and her colleague be framed for the murder?
THE GLASS MAGICIAN is a tall tale. There are elements that COULD have been compelling to read.
But the author has a tendency to distance herself emotionally from the characters. Stevermer can be clever and witty, and certainly draws on a vast knowledge of the times, setting a tapestry in which you can sit at a tea table and admire the painstakingly-researched settings, but you can then get to the point where you couldn't care less about where you are seated, or why. That detachment -- a lack of passion and emotion by the characters -- turned off the narration for me. I could not emotionally identify with Thalia. She needed to be more convincing and not just be part of the elaborately well-potted tea affair.