THE WOMAN IN THE CAMPHOR TRUNK
---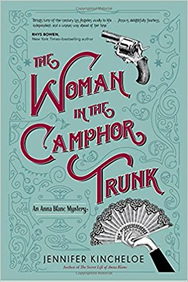 In Los Angeles, circa 1908, Assistant Police Matron Anna Blanc, with her colleague and former lover, Detective Joe Singer, uncover a body of what they believe to be a white woman, a missionary, in a camphor truck in an apartment owned by a Chinese man. The city is tense, with gang wars and brutalities galore, the kidnapping of slave girls, while the police are trying to avert regional attention that could lead to violence on an unprecedented scale. Can they solve the crimes in time?
The death of an American woman at a Chinaman's hands could spell riots. Can Anna find the evidence in time to prove that it may have been a jealous lover who did it, to stop the violence?
The book is an edition of the Anna Blanc detective series.