THOREAU'S MICROSCOPE
---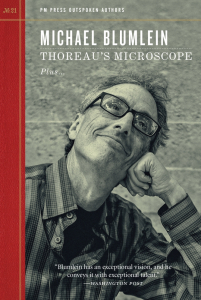 by Michael Blumlein
PM Press
(www.pmpress.org)
2018, 116 pages, $14
ISBN 978-1-62963-516-3
Click Here to Purchase
THOREAU'S MICROSCOPE is one great single-author collection.
In "Paul and Me," a man recounts his relationship with a friend from the wilderness: big, tall, strong, scrappy Paul. A gentle giant. A mountain man with incredible strength with also a goliathan heart and soul. A kind of special relationship ensues.
In the title story, the big question is: What if? What if the poet-scientist would not have contracted the deadly tuberculosis? What if the naturalist and arborist could have time to catalog ALL of nature, big and small, using the incredible Leeuwenhoek microscopes? What legacy would Thoreau have left behind?
In this story, the narrator himself is stricken with cancer, but not before he can be a participant of a mountain-climbing expedition to the California High Sierras, particularly Peak 12,691. The expedition itself traverses the climb to the peak of what the climbers christen "Mount Thoreau."
In "Know How, Can Do," scientist Sheila Downey successfully attaches a worm, Caenorhabditis elegans, onto a Homo sapiens brain, creating an intelligent creature that is aware, curious and questioning its own existence. What happens when the worm falls in love with Sheila?
I was only frustrated by the interview of Blumlein with Terry Bisson. They were all good questions. And Blumlein really didn't answer them. In Blumlein's attempt to be witty and offer up that precious bon mot, instead, Blumlein bottoms out. Nothing can be more frustrating to an interview question-and-answer reader like the failure to answer the questions. Ughh!