Issue #104 : Harlan and Me
---
Harlan and Me
The great American writer Harlan Ellison called me, a few times. I would answer and listen carefully, of course.
On June 28, we lost a Giant of SF and modern fantasy.
Yes, THE Harlan Ellison. The writer who literally put on the map the "Star Trek" TV franchise enterprise, especially with the haunting "The City on the Edge of Forever" from April 1967. Not to mention the many "Terminator" films, derived from the 1964's television series "The Outer Limits" and HE's script in September that year, "Soldier."
HE always called when I had a review of one of his books published in the print edition of True Review.
Harlan died in his sleep in the morning of June 28. HE was a force that we all are going to miss.
It was mid-May of 1985 when I traveled to Beverly Hills, staying at a dive hotel, just to make a West Coast trip to meet with the new "Twilight Zone" executive script editor Rockne O'Bannon, because I had the delusion that I was a would-be television scriptwriter-in-training.
But I also wanted to have Harlan sign the first edition of MEDEA: Harlan's World, at, I think, at his book-signing that week in May in Vroman's (though I could swear it was Change of Hobbit) in Pasadena, Calif. There we spoke about his contributions to the revitalized "Twilight Zone" coming to CBS. He spoke about Bruce Willis and the premiere episode based on his short story, "Shatterday."
---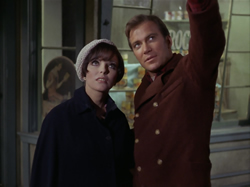 Winner of the Screenwriters Guild, Hugo and Nebula awards and a Science Fiction Writers of America Grand Master: That was American writer Harlan Ellison, who died at 84. And he was astonishing and he amazed us all with "The City on the Edge of Forever" on TV's "Star Trek," catapulting the show into history, forever; and "Shatterday" on the new Twilight Zone in 1985, of which he spoke about when I visited him for a Los Angeles book signing for his "Medea: Harlan's World" in May 1985; and my favorite of his stories, "Jeffty is Five," when I first read it in the Magazine of Fantasy and Science Fiction. If you didn't see or read those, you are Missing Something. Here's a favorite scene with Joan Collins and William Shatner from the haunting "City" where he talks about a future poet, in the stars, up there, somewhere: was it Harlan?
---
A great American writer, that is, Harlan Ellison, at right, with me during a presentation and signing at Penn State Berks in the fall of 2004. I wore a younger man's clothes. So did Harlan. But he signed all my books! He was a Force, and that Force is no longer with us, sadly.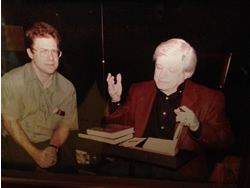 ---
HE called me not long after I reviewed Connie Willis' THE DOOMSDAY BOOK in the early 1990s. Ellison did not like my editorial title. But that's another story.
Through the years, every time I brought up that "Star Trek" episode, he would zoom me right of the subject. HE would say, "Andrew, you know I am not going to talk about it." I can hear that Ellison version of ANDREW and he made it loud and clear.
I grew up reading all, and I mean ALL, of Harlan. THE GLASS TEAT books and laughing my head off all the time I was reading THE HARLAN ELLISON HORNBOOK. And DEATHBIRD STORIES from the 1970s. And his DANGEROUS VISIONS original anthologies. I never got to ask him about THE LAST DANGEROUS VISIONS, because I just knew that strident and direct ANDREW voice would emerge.
But I would recount how "Jeffty is Five" really had an emotional impact on me, as did "Pretty Maggie Moneyes" and of course, "I Have No Mouth and I Must Scream" and all those arresting, daring stories that could only come magically from Harlan. I remember he wrote at one time that, at the top of a good story, when it was going very well, he likened being an author to lightning bolts coming out of his fingers.
Harlan was an inspiration for many, many, many successful authors.
In the fall of 2004, Harlan was staging a lecture in my neck of the woods, so I had a chance to get the rest of my collection signed by him at Penn State Berks near Reading. And the following is absolutely true.
I was sitting near the front of the lecture auditorium and Harlan was careening around the rows of seats, trying to engage the crowd. He stopped at my chair and asked me directly and to the audience: "Do I know you?"
And I said, yes, we met in California right before the new "Twilight Zone" episode was broadcast. You signed "MEDEA" for me. I am the editor of TRUE REVIEW.
And HE said, "ladies and gentlemen, I know this man! This is Andrew Andrews, who does an excellent review newsletter. This guy is good."
I was embarrassed and proud. And to hear praise from a Giant in the field. And to have a chance to talk to him about his many upcoming projects: priceless.
Harlan. I miss your voice. I am going to forever miss your writing, upon which I grew up and learned (never with any success) to implement in my own works of fiction. You can't be imitated. You were one of a kind.
Sadly, I don't see any Harlans taking his place. Nobody was like him, and nobody is taking his place.
Who is our Harlan Ellison? Who is the champion of good writing? Who is the counter- to our would-be culture? Who is the court jester, the imp of our cultural woods?
Harlan, you were unique, and now you are gone, and we are so very much less. I will miss you, dearly.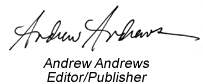 ---

---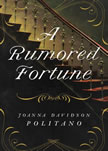 A RUMORED FORTUNE
by Joanna Davidson Politano
Revell Books
(www.revellbooks.com)
2018, 406 pages, $15.99
ISBN 978-0-8007-2873-1
Click here to purchase